I have a confession to make. My all-time fav music is the soul, funk, R-n-B of the past but my other musical love is the male group. The all male groups of that time are terrific too. Today I'd like to reminisce about two from my youth.
THE WHISPERS
and
BLUE MAGIC
.
THE WHISPERS
are from Watts, California, a section of Los Angeles. The group originally consisted of twin brothers Wallace and Walter Scott, Gordy Harmon, Marcus Hutson and Nick Caldwell. Harmon left the group in '73 after injuring his larynx. Leavell Degree replaced him. Hutson died in 2000. Caldwell passed just this January 5th at the age of 71. This group had the smoothest foot work this side of the Temptations! Wallace, or Scotty, as he is known, his even voice was, is, featured on their songs. And the hits were endless:
AND THE BEAT GOES ON
IT"S A LOVE THING
OLIVIA
ROCK STEADY
KEEP ON LOVIN ME
JUST GETS BETTER WITH TIME
LOVE IS WHERE YOU FIND IT
GREAT TUNES ALL! They are still performing.
The other male group I danced to was
BLUE MAGIC
, another hometown band. Founded in Philadelphia in 1972, the group embodied "Philly Sound." Not really known for fast driving songs, their ballads could stop your heart though. They have remained active through the years, fortunately or unfortunately, touring as THREE separate bands! Disputes. Disputes. Get it together guys and bring it in under ONE banner before it's all over. Anyway, I still like the music. And the hits are:
SIDESHOW
WHAT"S COME OVER ME
THREE RING CIRCUS
STOP TO START
They still perform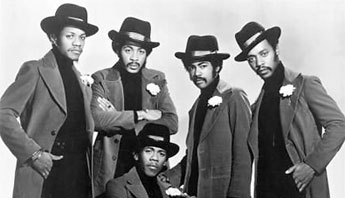 the 'tude oozing from this photo tho. Dying to know what the color of those suits were. Dying.